Welcome To North Star Residency, Dehradun
North Star Residency embodies the spirit of amenity, warmth and readiness. Its essence lies in its fundamental of offering cordial experience to its guests. It is an outshining budget hotel in Dehradun and is fashioned to gratify different segments, which include families, tourists and business travelers. The hotel is situated close to Saharanpur Chowk on Mussorie – Dehradun – Delhi Road and the hotel is at a distance of 750 meters from the railway station and a 5.3 kms drive from the ISBT Dehradun. Its location is in the vicinity of the historical and famous 'Jhande Saheb', where the foundation of the appealing city, Dehradun, was laid. Owing to this central location, it is easily approachable and is near to prominent business centers, retail stores and markets, entertainment hubs and tourist destinations
For travelers who want to take in the sights and sounds of Dehradun North Star Residency Budget Hotel is the perfect choice. From here guests can enjoy easy access to all that the lively city has to offer. Distance from Railway Station: 750 meters, from ISBT Dehradun 5.3 kms, From Jolly Grant Airport 26.5 kms, from main Saharanpur Road 200 meters, Center of the city. With its convenient location the hotel offers easy access to the city's must see destinations.
North Star Residency aspires to provide its guests a pampering "North Star Experience". The Hotel's location, facilities, offerings are elegantly spiced with a touch of personalized service for each guest.
Accommodation At North Star Residency, Dehradun
The rooms are designed with a contemporary touch and are well equipped with various amenities to offer a gracious stay to the guests. Well trained and amiable staff is at the disposal of our guests at all hours. Enticing and delicious food of North Indian, Chinese and South Indian cuisine is offered through room service. Precisely, we aim at providing our guests a hassle free experience with the best of hospitality and professionalism.The following are the different categories of rooms suited with different facilities, ambience and décor to render a cordial stay to our esteemed guests.
Standard Non AC Room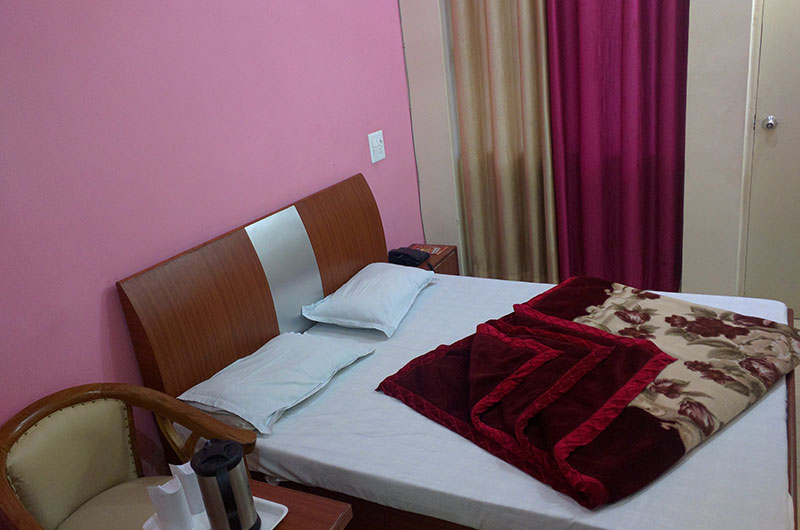 The Standard Rooms are equipped with modern amenities and facilities to make your stay comfortable and cordial. These rooms are facilitated with spacious double bed, private washroom, satellite television, contemporary seating and necessary toiletries. The interiors of each room are different with lively and modern color and texture. These rooms cater best to the needs of no frill and hassle business and couple travellers.
Deluxe Room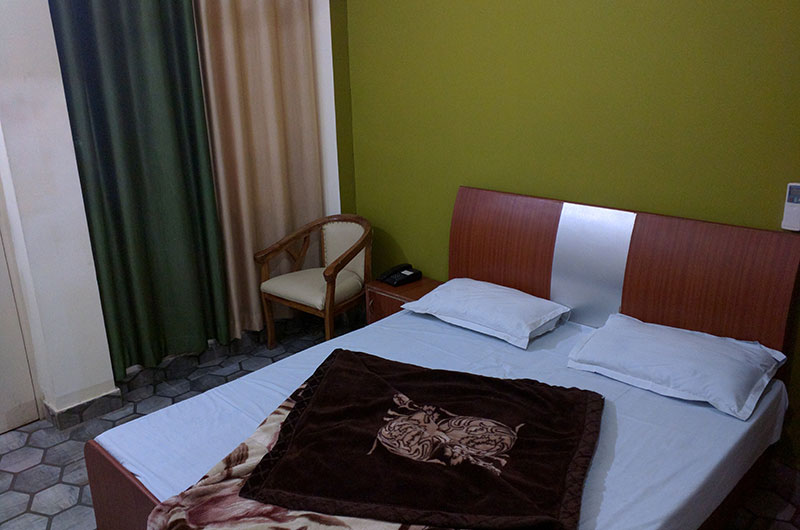 The Deluxe Rooms are fully air conditioned rooms with both heating and cooling options as per the need of weather. These are equipped with modern amenities such as tea/coffee electric kettle, queen size double beds, contemporary seating, work table, satellite connected flat screen television, beautiful interiors and modern toiletries. These rooms are best for couples, parents with single kid and long stay business travellers.
Luxury Room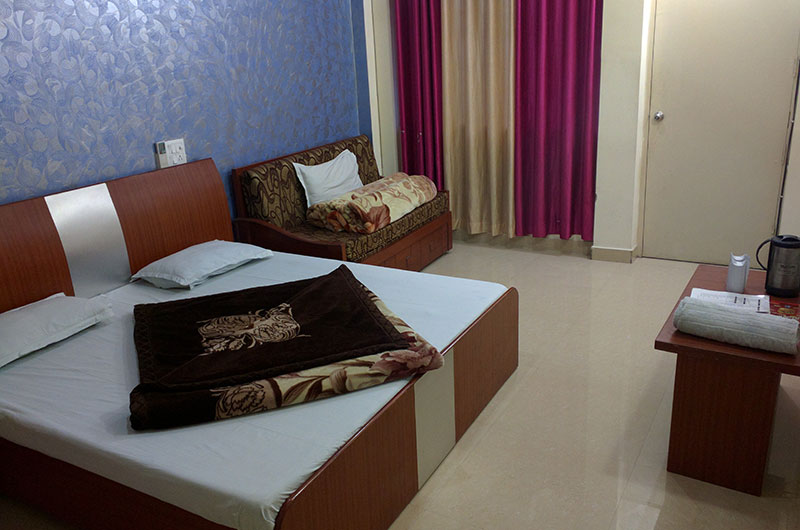 These are fully air conditioned family suites. It doesn't only have a spacious double bed but also offers a sofa cum bed. Four adults can easily accommodate in this room without the requirement of an extra bed. The interiors are modern and exquisite and the room is equipped with modern facilities like tea/coffee maker, satellite connected flat screen television, luxurious toiletries, spacious private washroom, wardrobe, dressing and both cooling and heating air conditioning. These rooms suit well to the families and a group of travellers.
Why Us
How to Reach Us
North Star Residency is easily accessible by road and connects conveniently to the Mussorie-Dehradun-Delhi Road. It can be reached from the entrance of Dehradun, ISBT, and is just 4.6 kilometers or a 5 minute drive from there. The road is well built and free of high traffic congestion thus making us more approachable and preferable hotel to stay.