Welcome To North Star Residency, Dehradun
North Star Residency embodies the spirit of amenity, warmth and readiness. Its essence lies in its fundamental of offering cordial experience to its guests. It is an outshining budget hotel in Dehradun and is fashioned to gratify different segments, which include families, tourists and business travelers. The hotel is situated close to Saharanpur Chowk on Mussorie – Dehradun – Delhi Road and the hotel is at a distance of 750 meters from the railway station and a 5.3 kms drive from the ISBT Dehradun. Its location is in the vicinity of the historical and famous 'Jhande Saheb', where the foundation of the appealing city, Dehradun, was laid. Owing to this central location, it is easily approachable and is near to prominent business centers, retail stores and markets, entertainment hubs and tourist destinations.
For travelers who want to take in the sights and sounds of Dehradun North Star Residency Budget Hotel is the perfect choice. From here guests can enjoy easy access to all that the lively city has to offer. Distance from Railway Station: 750 meters, from ISBT Dehradun 5.3 kms, From Jolly Grant Airport 26.5 kms, from main Saharanpur Road 200 meters, Center of the city. With its convenient location the hotel offers easy access to the city's must see destinations.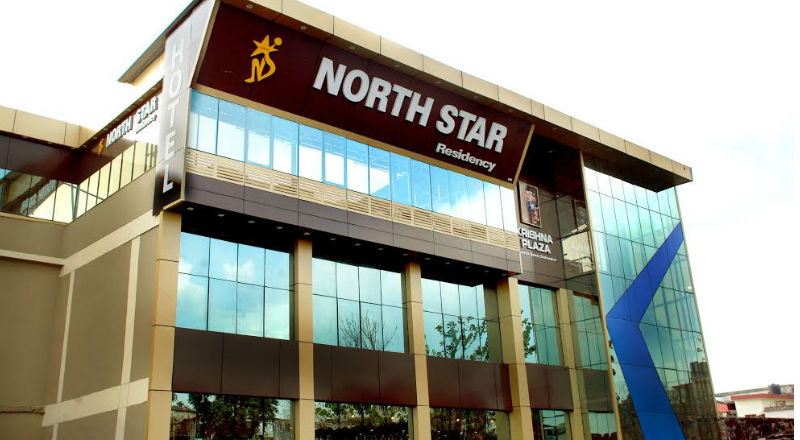 North Star Residency aspires to provide its guests a pampering "North Star Experience". The Hotel's location, facilities, offerings are elegantly spiced with a touch of personalized service for each guest.
Accommodation At North Star Residency, Dehradun
The rooms are designed with a contemporary touch and are well equipped with various amenities to offer a gracious stay to the guests. Well trained and amiable staff is at the disposal of our guests at all hours. Enticing and delicious food of North Indian, Chinese and South Indian cuisine is offered through room service. Precisely, we aim at providing our guests a hassle free experience with the best of hospitality and professionalism.The following are the different categories of rooms suited with different facilities, ambience and décor to render a cordial stay to our esteemed guests.